Like many writers, I have a stack of rejection letters thicker than my actual novel. You name the agent or publishing house, I've been rejected by it! At least that's what it feels like. And rejection has changed over time; while most places will still send you a form letter ("Dear author, Thank you for your interest in… Unfortunately, your work is not right for us…"), they now e-mail it to you for your convenience. At least I'm saving money on self-addressed stamped envelopes. I've had a few close calls, places that were interested in the manuscript but ultimately passed, but I sit here still rejected.
But yet, if you're reading this, chances are you've read my novel, or are at least thinking about it.
When Barnes and Noble launched PubIt last year, many writers like me finally got the chance to publish our work. After spending all that time writing and revising, the rejection process can be a soul-crusher; in the past, if an agent or publisher didn't want your work, you wouldn't have a chance at sharing your book with the public. All that has now changed with online publishing. Even better, it's completely free! Having once been burned hiring an "agent" that turned out to be a scam, I was skeptical, but I have had truly positive experiences with PubIt, Amazon's Kindle Direct Publishing, and Smashwords. You upload your book, create a cover, write a synopsis, and you're ready to go. It couldn't be easier.
You can now read Little Miss Teacher on a Nook, Kindle, PC, Mac, or any number of other formats (thanks to Smashwords). While not everyone is willing to switch to an eReader, more and more people I know are buying and using these, and it's completely free for an author to publish his/her work this way.
If you think you've written something that others might like to read, but you just haven't gotten the big break you've been waiting for, publishing online might be the right option for you. A word of advice, though: Take the time to make your work professional. Be careful and thorough with editing and revision, and design a cover image that looks will interest people in your book. If you need help, there are growing numbers of services you can find online. While these will not be free, think of the expense as an investment in your product. It's easy to spot the amateurs when browsing eBooks; remember, sometimes people do judge a book by its cover.
Although I once shirked at the idea of self-publishing (referred to by some as "vanity" publishing), eBooks are here to stay. Thanks to online publishing, I have finally gotten to share Little Miss Teacher with the world.
A high school English teacher herself, Cassandra O'Sullivan Sachar lives in Delaware with her husband, daughter, two cats, and dog. She enjoys shopping, traveling, reading, running, baking, and watching movies. She is also the author of a middle grade mystery, The Hidden Diary.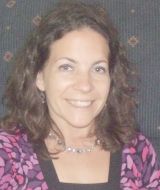 Stop back tomorrow for my review of
Little Miss Teacher!
~Jesi